Tis the season to shop so I thought I'd put together a little compilation of my favorite Etsy shops and gift ideas for everyone on your list! Most of the shop owners have even been so generous to offer up discount codes for my lovely readers, so be sure to check out their shops. Some of the codes don't last long, and if you see something you like, snatch it up before it expires!
Are you ready?! Time to get your shop on!! :)
25% off with discount code ELHOLIDAY
Valid thru Nov. 23rd

Edie's Lab
is a small workshop which focuses on crafting nontoxic, sustainable and responsible products. Their products are made with reclaimed and recycled materials and they use paints with low VOC! I love anything related to typography, so this shop has been a favorite of my for awhile now!
10% off with discount code SMITTEN10
Valid thru Dec. 16th

Pretty Smitten
specializes in personalized stationary, home accessories and gift items. Each item is created just for you. With so many color and pattern options, I just love how you can customize it to match your style.
The Vault Jewels
is chock full of beauties! Everything is handmade with a lot of care, attention to detail and quality materials. It was so hard to for me to pick a fave, because there are so many fun pieces!
10% off with discount code CREATIVE1
Valid thru Dec. 10th

Peg and Awl
has lots of unique treasures for the home, garden and body built from reclaimed materials. Their work is so distinctive and I love that they love to find old things and turn them into wonderful new creations.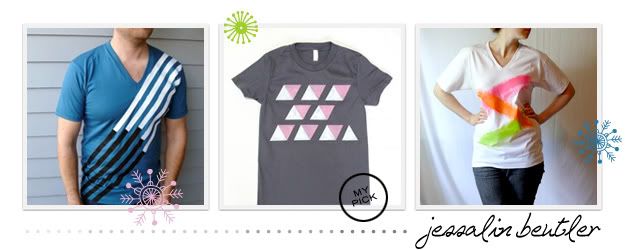 10% off with discount code CreativeIndex10
Valid thru Nov. 23rd


Jessalin Beutler
cre­ates hand-painted fab­ric items that fea­ture geo­met­ric prints for men, women and chil­dren. I was immediately smitten with the abstract lines and bright colors.
Beautiful Skin
creates beautiful handmade leather accessories for all our favorite gadgets and more! Don't you just love all the patterns? These are truly one of a kind pieces anyone would love to get!
. . . . . . . . . . . . . . . . . . . . . . . . . . . . . . . . . . . . . .

So there ya have it! Part 1 of my round-up!
Yes, you read right... that was only part 1!

Part 2 will be coming at cha tomorrow!!
Feel free to spread the word! Sharing is caring! :)