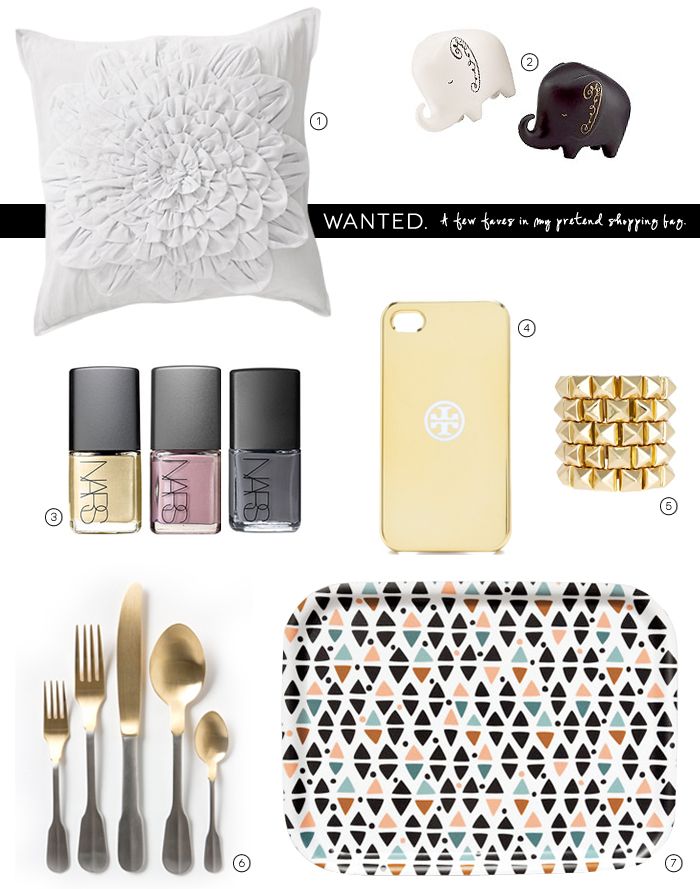 Just a few things in my pretend shopping bag...
Pillow Shams
// I've been wanting to get new bedding, but I think getting a few new shams will be a bit more budget friendly...
Elephant Salt & Pepper Set
// Seriously, how cute are these!? I don't really need them, but they are so darn cute! I love the ears!
NARS Nail Polish
// I don't like to spend more than $4-5 on polish. Spending $8 on Essie is hard for me, so spending $18! Probably not gonna to happen!! But I do LOVE these colors... and this is my "pretend" shopping bag, so I guess price isn't an issue! ;)
Tory Burch iPhone Case
// Swoon! Metallic gold gets me every time!
Stud Bracelet
// I'm obsessed with studs. The bracelet is pretty affordable and I would get lots of wear out of it...
Gold Dipped Flatware
// OMG! I'm need these! No explanation necessary. I need two sets! Stat!!
Triangle Tray
// I love the pattern! I have a thing for triangles lately! And the colors are great too!
Do you have a favorite item? What's something you have in your "pretend" shopping bag?