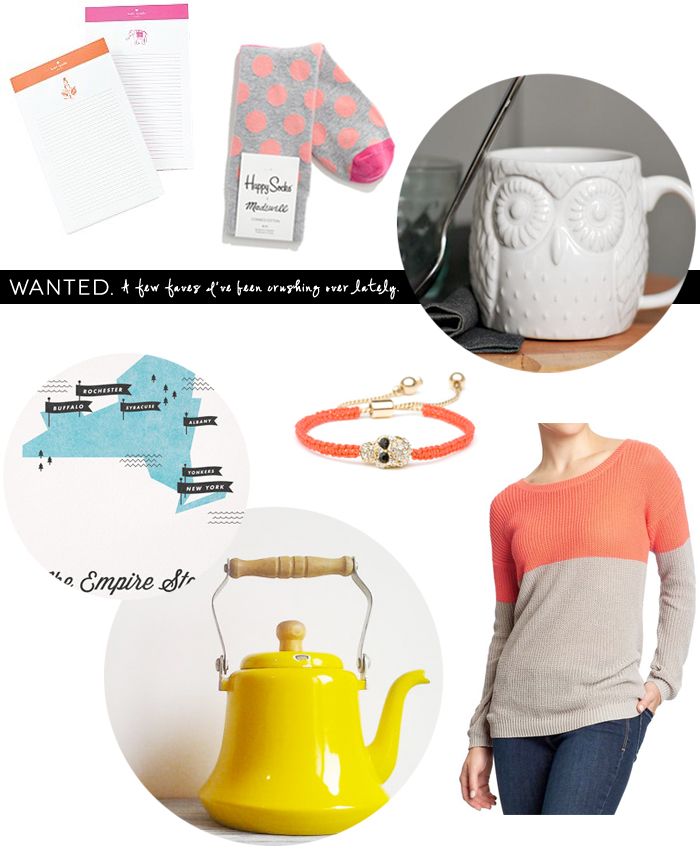 Just a few random things I've been crushing over lately...
Kate Spade Notepads
// I can never have to many notepads... I'm always jotting notes down and making lists.
Cute Socks
// I'm not really a sock person, but in the Fall/Winter when my tootsies need to be covered, my socks need to be fun. I'm loving all the patterns and colors of these Madewell ones...
Owl Coffee Cup
// I have a slightly large and random collection of coffee cups. Weird, I know. But I love coffee and I love cute mugs, so this owl one needs to be mine asap!
Skull Bracelet
// I'm usually a necklace girl, but I've been wearing a lot of bracelets lately. And I'm loving this one.... the sparkly skull is what got me!
Cozy Sweater
// Color blocking made easy! I love oversized, comfy sweaters and this one belongs in my closet!
Teapot
// Love the vintage charm of this kettle. And the pop of color will add some brightness to my dull kitchen.
NY Print
// The thing I want most out of this list... I've been missing home like craaa-zy, and this lovely little print might make me feel a little less homesick!
What's something you've been wanting lately? :)