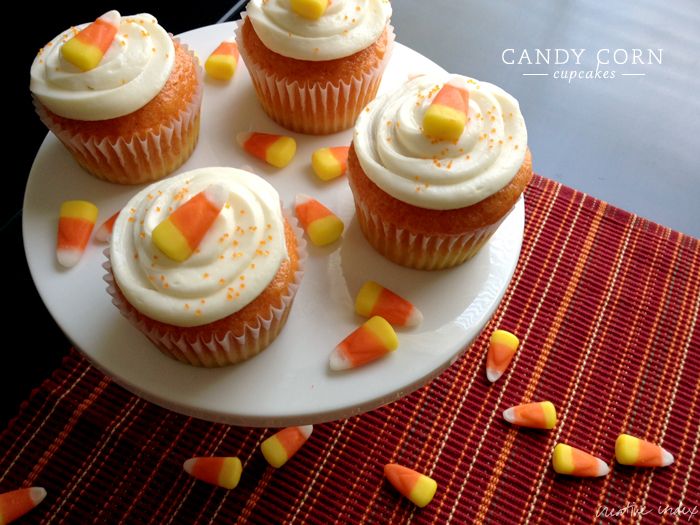 Hi friends! How was your weekend? We had people over yesterday to watch football and I wanted to make something sweet, festive and easy! So I decided to make candy corn inspired cupcakes.
And for all you candy corn haters, they don't taste like candy corn at all, they just "look" like it. Best of all... they are super easy! Just use your favorite boxed cake mix, color half your batter yellow and half orange and bake! That's it!
Now, if you want to doctor up that boxed mix a little like I did, just look below.... I'll tell you what I did...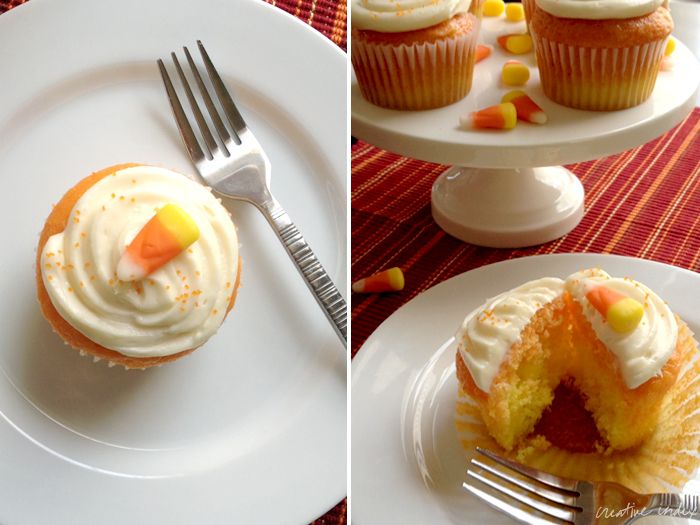 I added sour cream and a little pumpkin spice to the batter! :) To make this doctored up version, you'll need:
1 box white cake mix
1 c. sour cream
1/2 c. vegetable oil
3 large eggs
1 tsp. vanilla extract
1 tsp. pumpkin pie spice
food coloring
candy corn and/or sprinkles for garnishing
Preheat oven to 325 degrees. Line muffin tins with white paper liners. Combine all ingredients in a large bowl (except for food coloring and pumpkin pie spice). Beat on low speed for 1 minute. Scrape down the sides and then beat on medium for an additional minute.
Divide batter equally into two bowls; color one yellow and one orange. Add the pumpkin spice to the orange batter and mix. (If you don't have orange, just mix yellow and red (a little at a time) together until you get the shade you're looking for.)
Spoon in about a tbsp of yellow batter first. Gently tap the pan on the counter a few times to level it out, then spoon about a tbsp or so of orange. Level again if needed. Bake for 18-20 minutes or until a toothpick comes out clean. Remove from oven and allow to cool completely before frosting.
Use your favorite canned or homemade frosting. (I love cream cheese frosting, so this
recipe
is one I use frequently. I also like this
vanilla buttercream
recipe.) Garnish with candy corn and sprinkles!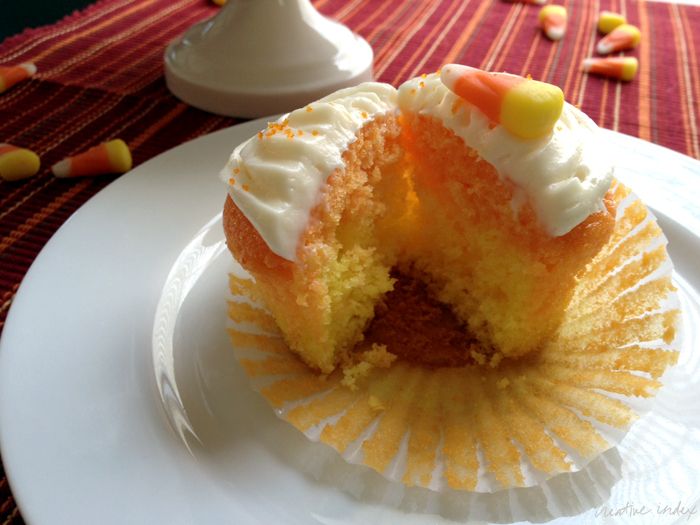 Now tell me, are you are candy corn lover or hater?
What's another Fall inspired treat you've made recently? Or one you've been wanting to make? ;)
recipe adapted from here

linking up with cupcake diaries | lil luna | someday crafts