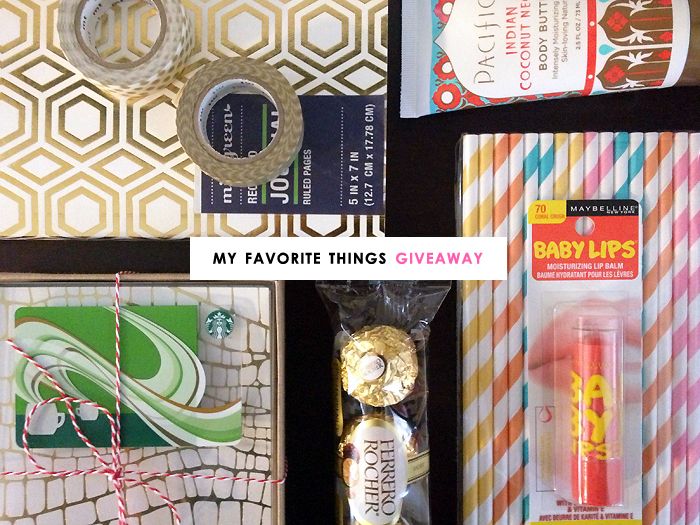 Happy Monday!
I've been meaning to have a giveaway for a while now... I wanted to have one around Christmas, but I just never got around
to it, but since we're so close to hitting the 400 follower mark, I figured now would be as good a time as any!
I'm so thankful for all your support, emails, tweets and I just want to say THANK YOU! I wish I could send all of you something, but one lucky winner will get a few of my favorite things: thank you cards, a journal, starbucks giftcard, washi tape, paper straws, baby lips, candy and a few other treats that I want to be a surprise! :)
TO ENTER:
+ Be a follower of the blog! Follow by GFC,
Bloglovin
or
RSS feed
and leave a comment on this post. Make sure to leave
an email address if you don't have one on your profile/blog.
EXTRA CHANCES (SEPARATE COMMENTS PLEASE):
+ Like the
Facebook page
+ Follow on
Twitter
THAT'S 3 TOTAL ENTRIES/COMMENTS! GOOD LUCK!
I'll choose a winner at the end of the week (Friday) and the winning entry will be verified! If the winner doesn't respond
within 48 hrs a new winner will be picked.
- - - - - - - - - - - -
AND THE WINNER IS...........
Kyla
... Congrats girl! Check your email! :)
I felt bad only picking one winner, so I decided to pick two more! Although I can't send more packages, you can enjoy a Starbucks treat on me!
Lindsay and Leesh ... Check your email too!! :)