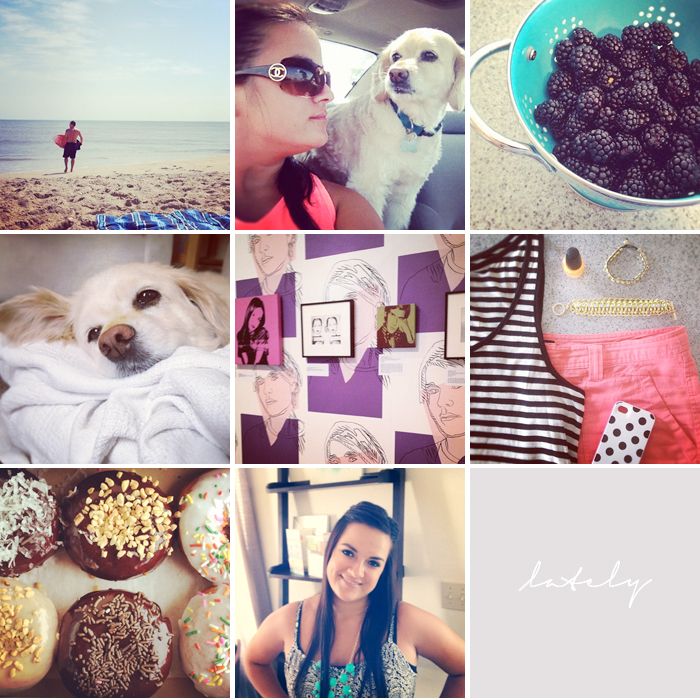 Lately....
// We've been spending lots of time soaking up the sun. Pretty much any day the Hubs has off, we head off to the beach!
// So fresh and so clean.... Bosco got a fresh Summer cut! I love how soft his fur feels after a day at the groomers.
// Blackberries have been a morning staple.
// We had a fun date day at the
Virginia Museum of Contemporary Art
. I had been wanting to see the Warhol exhibit and the Hubs surprised me with a visit.... and lunch! He's a keeper! ;)
// Some recent finds from H&M, Gap and Kate Spade.
//
Donuts
that are warm, delicious and made to order! If you ever visit the OBX, you should definitely
try them
for yourself!
// My Summer uniform.... a maxi dress/skirt and my j.crew bubble necklace!
So that's my life lately.... exciting, huh? Feel free to follow me on instagram
@creative_index
. Just be warned, I post lots of photos of my dog and the beach!
What have you been up too? Has your Summer been busy or are you keepin' it low-key?
Linking up with And Everything Nice today. Hop on over to see the other Instagrams being shared and meet some fab new bloggers.