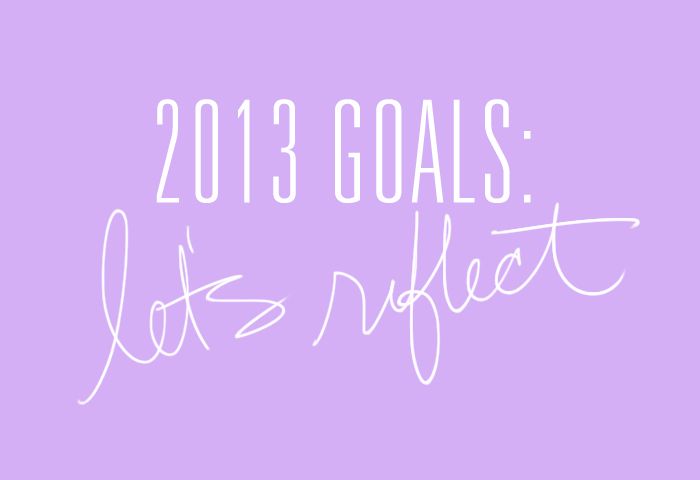 Can you believe we're already a quarter of the way into 2013? I ended up reviewing my "
Thirteen in 2013
" list over the weekend. I'm not gonna lie, I was a little nervous. I feel like I really haven't accomplished much and the days just keep flying by. Anyone else feel like that?
So, let's reflect a little and see how I'm doing:
1 / Sketch, draw, and paint more.
I have blank canvas ready to go, just need to figure out what to paint!
2 / Workout at least twice a week. (No excuses!)
We joined a gym in February and I'm proud to say that I go three (sometimes 4 times!) a week! I'm super proud of myself for hanging in there and going! I never though I would enjoy it, but it's really not that bad. I've even lost 6lbs! :)
3 / Pay off one credit card.
Happy to say we paid one off, but then had to open another one for my computer (see #7). I guess it doesn't really count now, but we have been very good at not using them. Hopefully by the end of the year, we can have another paid off, or at least paid down a bit!
4 / Plan a weekend getaway. (I'm thinking Charleston!)
Not sure if Charleston is gonna happen. We both really want to take a trip back home! We're homesick! And we've also been taking about FL. We have family down there, plus we've been toying with the idea of a move there....
5 / Take more photos.
This has been a hard one. Maybe because I don't have a camera, just my phone.
6 / Go jet-skiing or para-sailing.
If the temps ever warm up! Geeze! Still have a few months before this one can get checked off...
7 / Buy a new computer.
My old computer finally died and I was forced to buy a new one. Don't get me wrong, I LOVE my nice, new, shiny Mac, but I wish I would've had some money saved before I had to buy it.
8 / Re-design Creative Index.
Yep, as you can see, the blog got a little makeover. I'm really happy with the new look. For now! ;)
9 / Develop a more consistent blogging schedule.
This is a work in progress.... It's tough coming up with fresh and inspiring posts!
10 / Make a book of my Instagram photos.
First I have to take more photos, both with real camera and for IG. My IG feed can be pretty slow and uninspiring at times. I don't even think I would have enough photos for a book at this point..
11 / Organize and declutter. (I have a hard time getting rid of things...)
This is a work in progress too! I plan on going through my closet/bins and getting rid of the clothes I haven't worn in months (or years)!
12 / Create an office space that is more inspiring.
This one's gonna be a hard one. Right now my "office" is one corner of our spare bedroom (that also houses all our extra junk). We have VERY limited storage space in this tiny house, so it has become the catch-all room for all our boxes/bins/junk that would normally go in a basement or attic. Guess I need to work on #11.
13 / Open up an Etsy shop! :)
Hopefully by the end of Summer!
4 out of 13 checked off. Not great, but not horrible. Hey, I still have 8 months! ;)
Do you have a list you're working on? I'd love to hear how you're doing and what you've achieved so far this year.