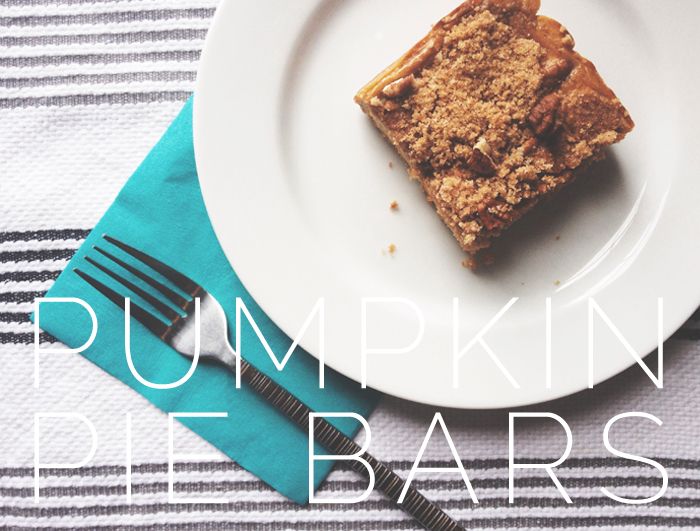 While browsing
Pinterest
the other day, I stumbled across this yummy recipe for
pumpkin pie bars
. I've been dying to bake something pumpkin, so I thought I'd give them a try. I've been trying to cut down on sugar and make healthier choices, so I made them with some slight modifications.
These pumpkin pie bars are simple, delicious and not overly sweet. (If you have a major sweet tooth, just add a little more sugar or agave to the filling.) The crust is hearty, the filling is light and creamy and the crumb topping is all sorts of sweet goodness. I am beyond excited my modifications didn't ruin the recipe. I will definately be making these again. Even the Hubby like them! :)
THE INGREDIENTS:
---
FOR THE CRUST:


1 cup whole wheat flour
1/2 cup all purpose flour
1/4 cup light brown sugar
2 tablespoons coconut sugar
1/2 teaspoon baking podwer
1/2 teaspoon baking soda
4 tablespoons unsalted butter (cold and cut into small cubes)
2 tablespoons coconut oil (melted and at room temperature)
3/4 cup chopped pecans (optional)
pinch of salt
dash of pumpkin pie spice or cinnamon



FOR THE FILLING:


8oz. low-fat cream cheese
3/4 cup canned pumpkin puree
1/3 cup granulated sugar
2-3 tablespoons agave (optional)
1 large egg plus 1 large egg white, lightly beaten
1 1/2 tablespoons pumpkin pie spice
DIRECTIONS:
---
Spray the sides and bottom of an 8" square pan with coconut oil. Line with parchment paper and give another quick spray of coconut oil. Set aside and preheat oven to 350 degrees F. In a food processor, combine crust ingredients (except coconut oil) and pulse a few times until mixture is crumbly. Add coconut oil and pulse a few more times. Reserve about 2/3 cup of the mixture for the topping. Press remaining mixture evenly into the bottom baking dish and bake for 15 minutes.
While the crust is cooling, place the cream cheese and sugar in a large mixing bowl and mix on low/med speed until creamy. Add the pumpkin, eggs and spice and mix until combined. Pour mixture over baked crust. Sprinkle with remaining crust topping (and some additional chopped pecans and extra dash of cinnamon/brown sugar!). Bake at 350 degrees F for 30-35 minutes until the center no longer jiggles and the topping is golden brown. Cool completely in pan and cut into squares. Refrigerate leftovers in a covered container and should last for 3-4 days.
Serve chilled or at room temperature with a dollop of whipped cream or scoop of vanilla ice cream! ;)
- -
By no means am I an expert baker/food blogger. I mean, I only took one photo! :/ I really have no clue what I'm doing when it comes to substitutions/modifications. I just adjusted to my preferences and what I had, so feel free to check out the
original
(or
this one
too) and adjust to your tastes/needs.
Adapted from this recipe.