Guys, it has been a really long time since I've done an
Artist Love
post! Let's change that! Okay? I've been a fan of
Diana's art & blog
for a while now and I'm so happy she's here sharing her fantastic work and talking about her new collection! (Hint: She's even giving away one of her paintings! Keep reading to find out the details.) Take it away Diana...
- - -
Let's start at the beginning. Tell us a little about yourself...
Hi! My name is
Diana
and I'm a painter living and working in San Francisco. Up until a year and a half ago, I was studying medicine in Los Angeles, but I decided to take a year off to pursue art, one of my long-time passions. And then I couldn't resist taking another year off… I'm currently in my second year of working as a full-time artist, and loving it!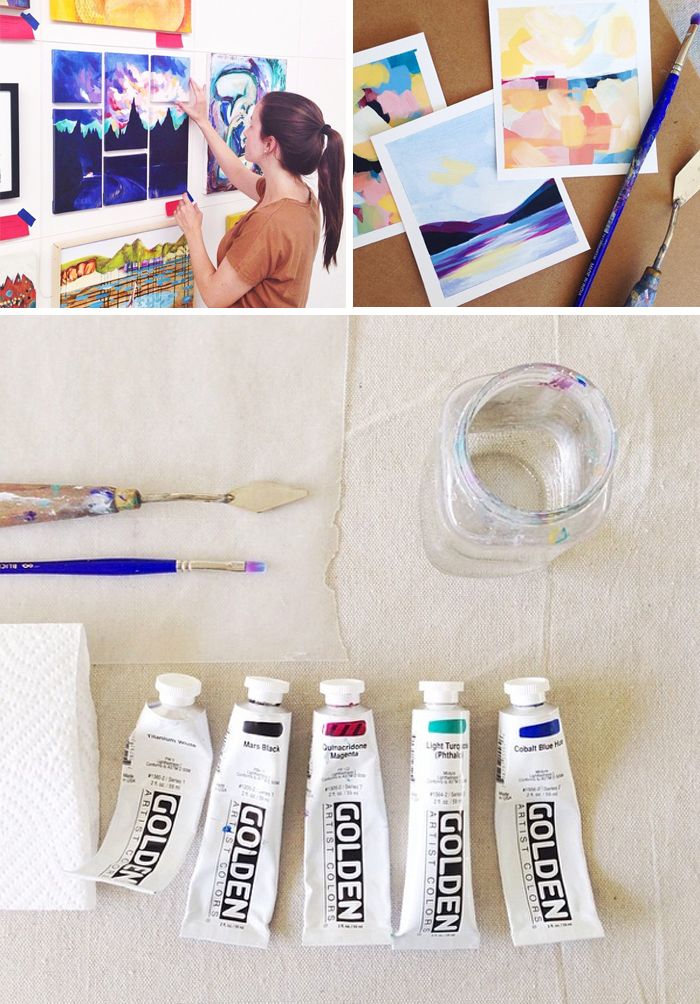 Tell us about your process. What inspires your work?
I think a lot of my recent work focuses on the theme of home. I've moved around a fair amount (Connecticut, the Bay Area, Seattle, Los Angeles), and I think my landscape paintings especially play off of these experiences -- they're kind of simultaneously excited by the adventure and craving a more settled home.
Do you have a favorite medium to use?
I love acrylic paints. They dry very fast, which forces me to work quickly and spontaneously. Otherwise, I might agonize over a painting forever! (Although to be honest, I still do that sometimes!)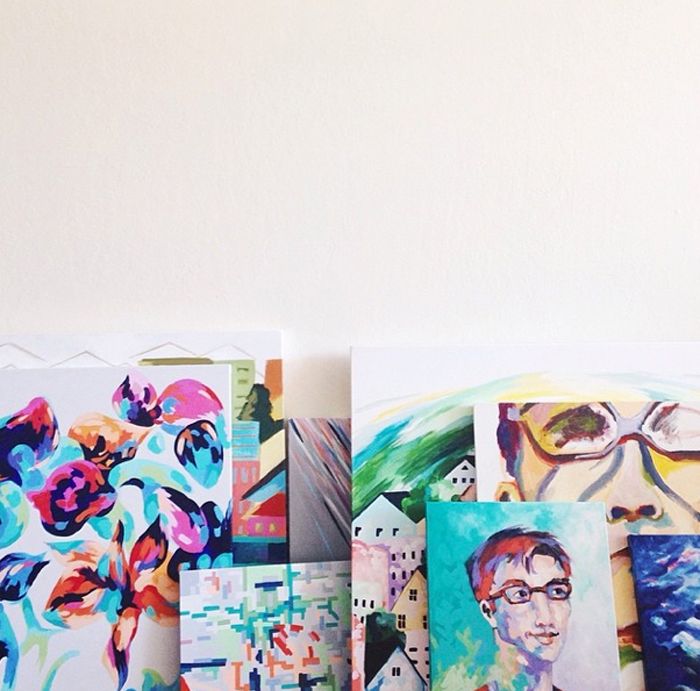 You have so many great pieces! Do you have a favorite?
Thank you so much! One of my long-time favorites is
The Madonna
, which has been traveling with me through four different moves. I recently broke our mirror (sadness) and hung
Madonna
in the empty space. I still wander back to that spot expecting to see my reflection…but now instead I see a portrait of a strong and self-possessed woman looking back at me! It's kind of a fascinating little psych experiment I'm playing on myself. I imagine only good can come of this.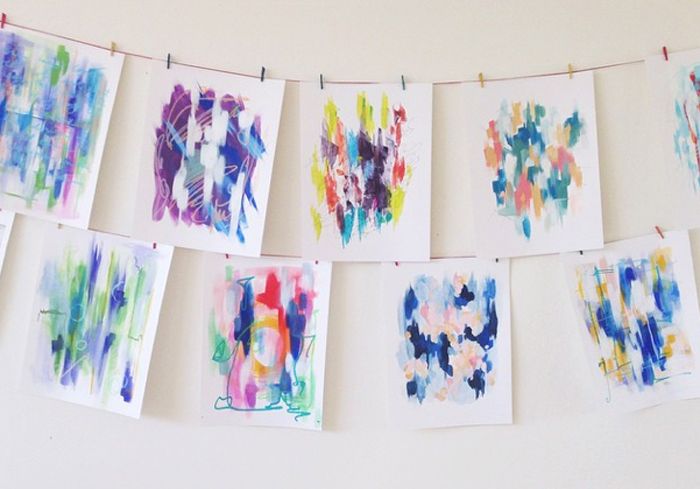 What can we look forward too? Anything new in the works?
I've just released my
newest series
of paintings this week, which I'm really excited about!
My Postcard Project
(photo below) is twelve miniature paintings based on a memory or place that is significant to me. I chose to work small because I love the feeling of holding something beautiful in my hands, and because I wanted the paintings to be like little windows onto their scenes. I hope they are able to brighten people's days (or their home!), and remind them of the special memories and places in their lives.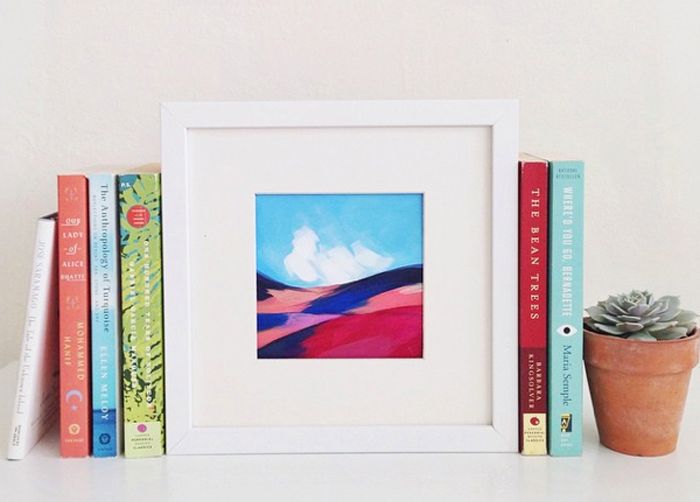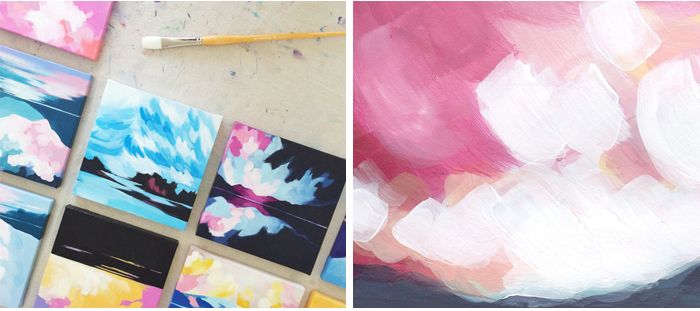 Just for fun, how about some rapid fire questions? Answer with the first thing that pops in your head. GO!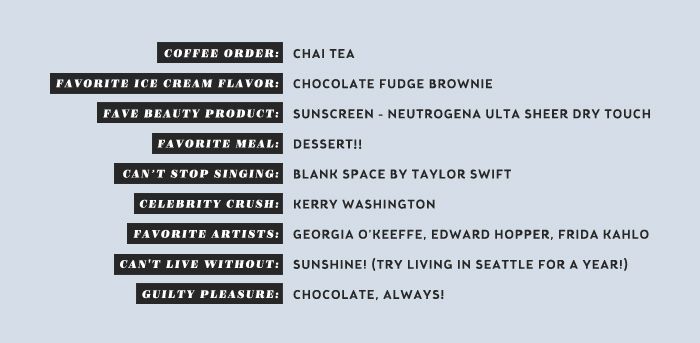 - - -
I absolutely love Diana's work! Her pieces are just so refreshing and she has such a great eye composition and color combinations! My faves are
Fireflies
and
January
... and I can't wait to see what she comes up with next! She's one talented lady! Another thing I love.... her
postcard series is affordable
! Each of these paintings comes framed and matted, and is packaged with a little written story about the painting. Making it possible for anyone to own an original work of art (even a tiny one)!
For more about Diana Willard's artwork:
+ Visit her shops -
Esty
//
Society6
+ Get inspired & stay updated on new collections - follow her
blog.
+ For daily happenings and a peek inside her studio - follow along on
Instagram