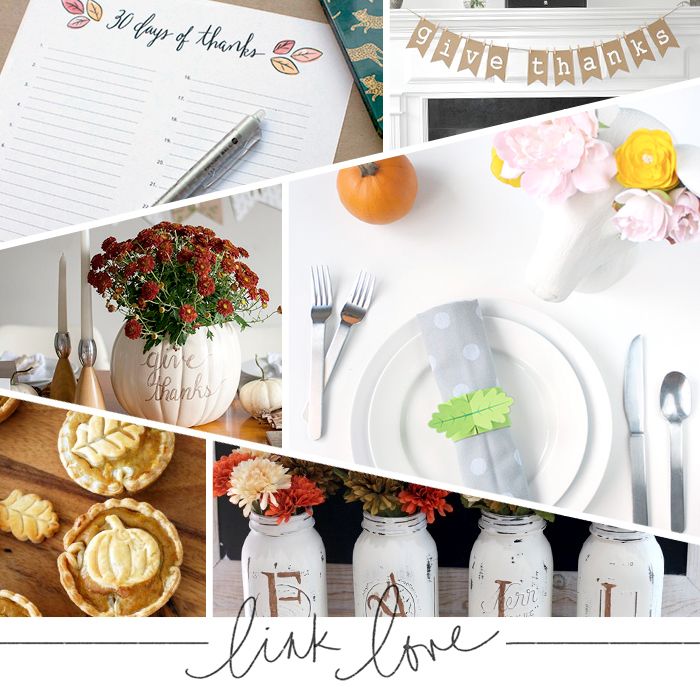 Well, we made it through another week! And to be honest with you, I feel like everyone has forgotten about Thanksgiving! I LOVE Christmas as much as the next person and I may have started listening to Christmas music here and there (I need to be in a festive zone while designing those
Holiday tags
!) but come on people... what about Thanksgiving?! I've seen a few bloggers with fully-decorated trees, ornaments and reindeer everywhere, glitter and garland to the max..... why are we rushing it! The days are going by so fast as it is! The whole season is going to be over in a blink of an eye. Can we all just slow down a little and not completely forget about Thanksgiving!
I've rounded up a few Thanksgiving links in case you need a little inspiration. And next week I'll share a recipe round-up for any last minute menu ideas you might need!
+ Use this
cute printable
to reflect on the things we have to be thankful for.
+ Love this
super simple bunting garland
!
+ Also love this (plastic)
pumpkin centerpiece
!
+ Tired of using the same napkin rings? Then make these
cute paper leaf
ones.
+
Mini pumpkin pies
! Yes, please!
+ If you're crazy about mason jars,
this project
is for you! Think of the possibilities!
+ Decorate your phone/desktop with this
cute wallpaper
.
+ I love an infographic!
This one
will help you perfectly prepare your meal!
+
Carve a turkey
the right way!
Happy Friday and happy weekend! :)