.... that are more like complaints! haha
+ Has the the weather been really crappy where you live too? Because it really sucks here. In the four years living here, this has been the coldest, rainiest, gloomiest Spring... and it's really bumming me out! We've had one "real" beach day (hence the pretty photo above) and it's even to chilly/rainy to keep the windows open very long. I love when the cool breeze comes through the windows because soon we're gonna be stuck with the A/C running 24/7......
+ I'm tired of doing the dishes! Not just tired of it... I really HATE it! We don't have a dishwasher, so I wash every single dish and after 4 years, I'm SO over it. You don't really realize how many dishes you use throughout the day... and that's why I don't bake as much as I'd like. I don't want any extra dishes! And getting Brandon to help is like pulling teeth - plus I usually just have to re-wash them anyways. So gross!
+ I had to use Christmas money I was saving to buy a new vacuum. It was about $200. There hasn't been anything I really wanted/needed and there wasn't anything specific I was saving it for, but I know I didn't want to spend it on a vacuum though! lol Sometimes being an adult stinks!
+ Spending 15 minutes on hold with Target to find out the status of my online order then to get disconnected... annoying! Then I call back, wait again, then find out my order was never actually processed and the item is out of stock... really annoying!!
+ Instagram is irritating me too! I didn't even update it yet, but I can totally see a change. My "likes" are down (which doesn't really both me) but what's worse is that I'm missing so many of my favorite peoples posts! People that I interact with daily too! Oh, and my explore/featured tab shows photos I have NO interest in! It used to be filled with dogs and art related photos and now it's SO random, showing pics I don't care to see... like stupid kids smoking weed and fitness "models" :/ Ugh....
+ I'm really considering switching to Squarespace. I've been thinking about it for awhile now. I'm just not happy with Blogger or Photobucket anymore. (I use photobucket for my images) I've been having major issues with my images not loading and I just feel limited with Blogger. I think it's more of a photobucket issue and I've contacted them several times, but their support isn't the greatest. I want my blog and shop to grow more... and I want to get back into design projects. It's been 6 years, but I think it's time to take the leap....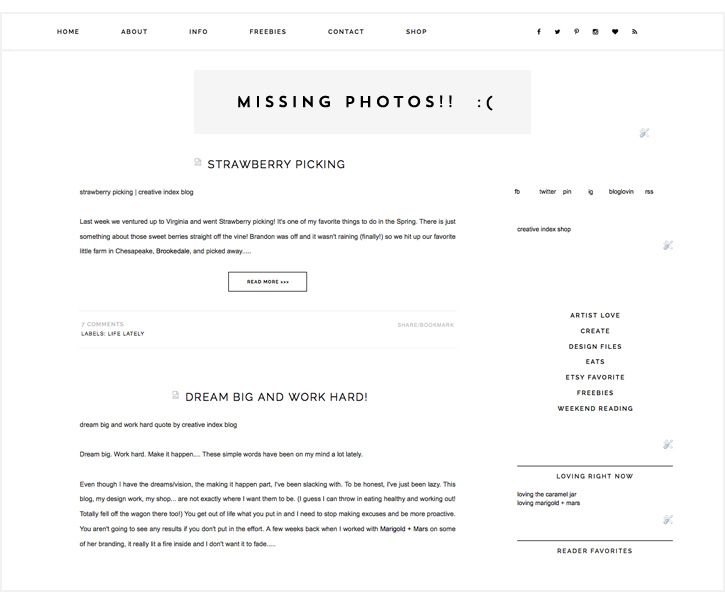 See what I mean! It's soooo annoying and it's been happening way to often!
Yes, I understand these are stupid, trivial things.
Sometimes, ya just need to vent though! lol It kinda feels good!
Feel free to vent about something if you want to get it off your chest! ;)